Our Story
Voodoo Molly Vintage is a small team based in Auckland, NZ. It is run by husband, wife and daughter team -- Lyall, Antonia and Stevie Marino.
The chicken or the egg?
Voodoo Molly was established by Antonia Marino from humble beginnings. She started teaching herself furniture up-cycling in the early 90's when their daughter was just a baby.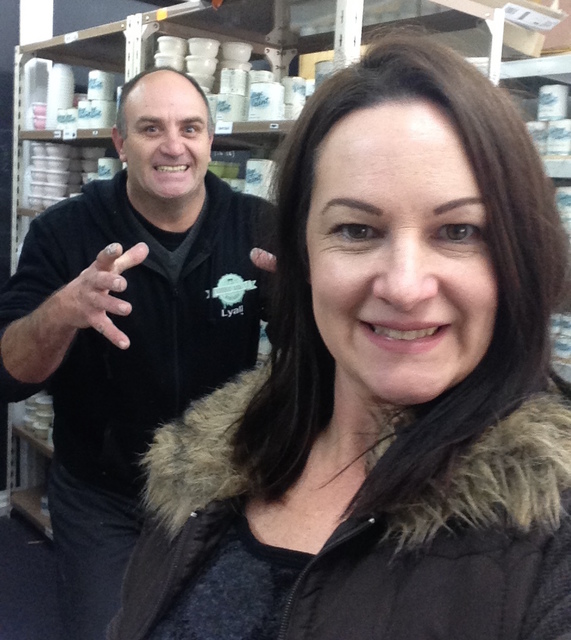 Back then she learnt by stripping furniture down and putting it back together. She's still unsure which came first -- the upholstery or the furniture painting -- but the upholstery was the hardest to master.
Breaking the mould
Deciding to turn her furniture hobby into a business was bittersweet. In 2005 Antonia quit the corporate rat race to become a full time artist creating oil paintings and metal sculptures. She loved producing art and made a successful living out it, but her furniture up-cycling was yelling louder.
Antonia knew that to be successful in business you need to do one thing and do it well. So she wound down her art business in favour of custom bespoke furniture for private clients. She provided reupholstery services but the majority of her business involved furniture spray painting which was her main love.
Shaking it down
At first people weren't convinced about painting furniture and New Zealanders couldn't shake their love affair with varnished wood and flat packs. It wasn't that bare wood was bad -- but there was just too much of it. People started to inherit family estate pieces with sentimental value but they didn't fit in with modern interiors. The furniture painting buzz started to gain momentum, and with word-of-mouth referrals it wasn't long before Ant was being kept busy on a full-time basis.
Voodoo Molly was officially born.
Naughty but nice
The name Voodoo Molly was selected in a very interesting way.
Antonia folded a piece of paper in half. On the left she wrote nouns representing old, bad, naughty, sin, creepy, dirty. On the right she wrote female names that gave the impression of nice, innocent, light, virginity, pretty.
Using a pencil Antonia connected words on the left with words on the right gradually narrowing down to just one name. Voodoo Molly. A name that was funky and memorable. A name implying the transformation from sin to innocent, dark to light, bad to good. Exactly like the makeovers she had started to perform on her bespoke furniture pieces.
The tagline 'Create Voodoo Magic' would be used years later. However Antonia maintains the magic came alive on that day.
Breaking the camel's back
A few years ago Antonia made a decision that would change the face of Voodoo Molly forever. Immediately after surgery to her spine and both hands she decided to stop creating and start teaching. She spent hours during her recovery designing prototypes and curriculums to teach upholstery; and when she was strong enough she perfected her teaching technique and streamlined her lesson plan.
Her "Beginners Upholstery Workshop" was born and it has since become the most beloved quick-fire upholstery training in Auckland, with students also travelling from around NZ and as far as Australia to attend.
Starting in 2016 Ant has started to train other upholstery tutors around NZ to teach the Beginners Upholstery Workshop. This enables more students to experience the wonderful world of upholstery! Due to the growth of this side of the business, Antonia and Lyall created a second business, Mollies Make & Create.
Crossroads
Although upholstery took up a lot of her time, Antonia's true passion was furniture painting. So how could she incorporate this into her lesson plans? Antonia was (and still is) a loyal Resene customer but their product wouldn't lend itself to quick, one-day makeovers needed for classes. The alternative was Chalk Paint but this product didn't match Antonia's high standards of long lasting durability and professional smooth finish.
The challenge was on.
Trying to solve this dilemma would take Antonia in a very unexpected direction.
All the best bits
Unwilling to compromise professional painting standards to fit a 6 hour workshop, there was only one viable option. True to form of turning barriers into challenges, Antonia decided to create something unique. A paint that was fast drying and self-priming like a chalk paint, but acrylic-based and durable like a waterborne enamel.
Antonia loaded the workbench with all the various paints she had -- water-based acrylics, primer undercoats, chalk paint, sandable coatings, enamel spray paints, milk paint and artist acrylics. She created a long list of the "best bits" of each paint, the benefits she wanted her own paint to have. After all, if you're custom-designing a product from scratch aim as high as you can!
Knock knock
Armed with this pipe dream list, Antonia and her husband Lyall knocked on the lab door of a local Auckland paint chemist and presented this list to them.
*Stunned silence*
"This might take a while" they said.
And they weren't wrong. The next 1 1/2 years would see Antonia and Lyall on a crazy paint-making journey, which included Lyall leaving his employment and taking on a full-time role with Voodoo Molly.
Branding the baby
Whilst the chemists were trying to tick every box on the list, the brand design process started.
Antonia worked closely with her graphic designer/daughter Stevie to create a new brand identity which saw Voodoo Molly morph into two businesses -- Voodoo Molly Vintage and Mollies Make & Create.
For Voodoo Molly, gone went the original 1950s-inspired "American Diner Sign" design with its pastel colours and animated feel. In came a new look with inspiration taken from Victorian advertising and old company seals. The pinstripe and stars were retained from the original branding, but a whole new colour palette and design image was adopted; a transformation befitting their optimistic plans.
They just needed the paint.
Filling the shelves
In May 2014 the first tin of Voodoo Molly Vintage Paint was labelled and placed upon the shelf. The launch was a success and paint was getting slapped around here, there and everywhere.
Early on, several New Zealand and Australian businesses recognised the innovation and potential of Vintage Paint and hopped on board the crazy train. Stockist numbers were growing monthly and more and more customers were falling in love with the Voodoo Magic experience.
Within a few months Voodoo Molly Vintage started working on another Vintage Paint formula called Easy Brush -- a beginners' DIY version that has since transformed furniture painting. They continue to work with the chemists to create new products to add to the Vintage Paint range.
It takes an army
Antonia recognised early on that battles aren't won by a single soldier. It takes an entire army. In mid 2018, Lyall and Antonia's daughter Stevie joined the ranks full time, taking on an administrative and marketing round. The Voodoo Molly management and development team now consists of Antonia as CEO, Lyall as Operations Manager; and Stevie in Marketing & Design.
Giving back
Voodoo Molly Vintage work closely with Te Aro Potama Transitional Unit. The unit provides support to young special needs adults who have recently graduated from college, teaching them life skills such as independent living, employment preparation, community participation etc. Voodoo Molly provide work experience opportunities to help develop their employment, social and responsibility skills.

And thats not all folks
The philosophy of Voodoo Molly Vintage is innovation, creativity and sharing.
They have a bucket list of goals that is dynamic and fluid. The list keeps reducing and increasing as their goals are achieved and imagined.
Greatness doesn't come from waiting for something to happen or copying the competition. It comes from carving your way into the jungle.
And that's exactly what Voodoo Molly Vintage are doing.